State Regents recognize partnership between Eastern and the Caring Hands Healthcare Centers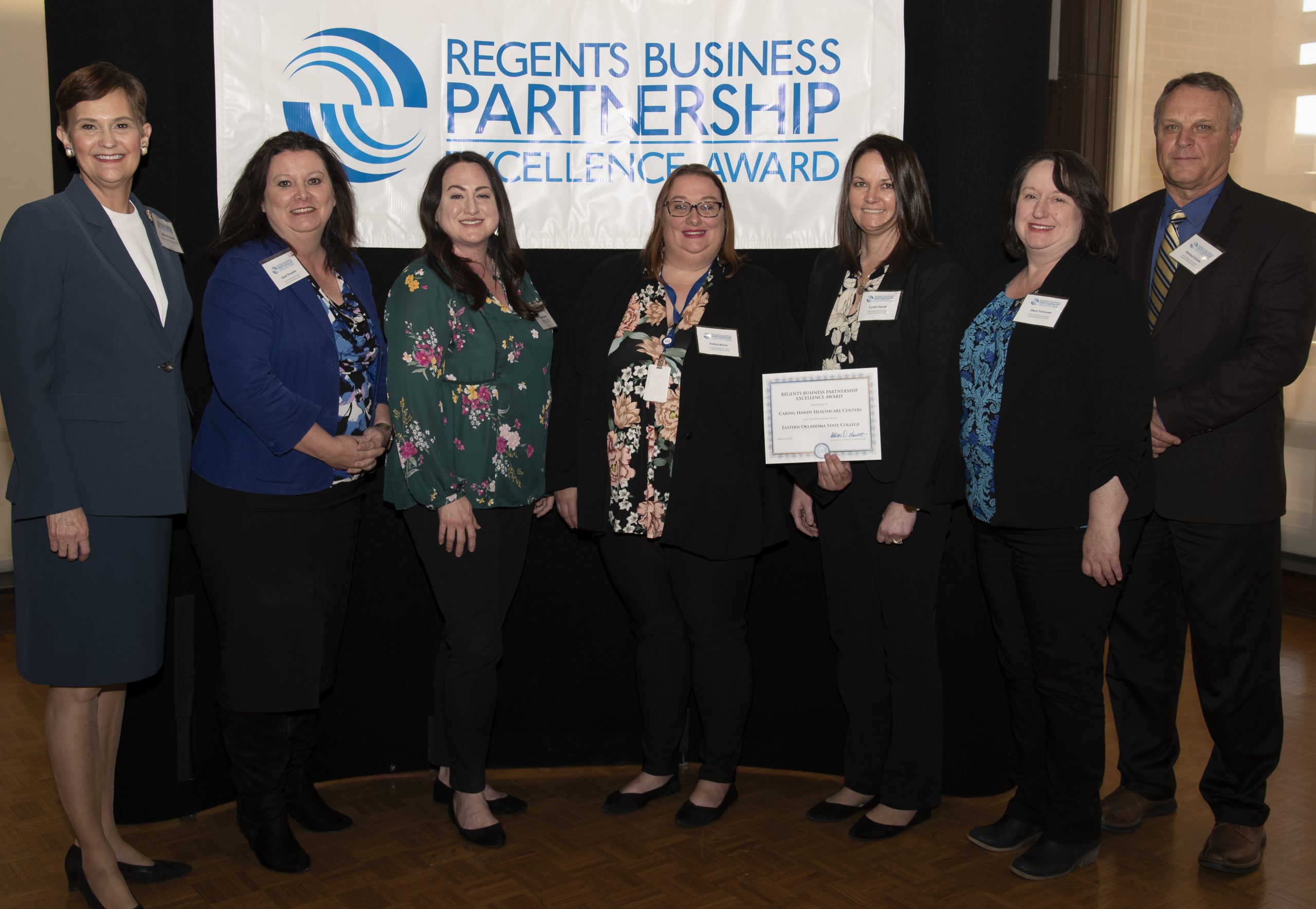 EOSC Marketing and Communications
Twenty-six business and higher education partnerships throughout the state were recently recognized as innovative collaborations that further the education of Oklahoma's workforce.
The partnership between Eastern Oklahoma State College and Caring Hands Healthcare Centers was recognized at the Oklahoma State Regents for Higher Education's Regents Business Partnership Excellence Awards reception, an event designed to highlight successful partnerships between higher education institutions and businesses and to further cultivate the higher learning environment through State Regents' Economic Development Grants. Oklahoma State Regent Michael C. Turpen served as master of ceremonies for the event.

Institutions involved in these partnerships provide $500 for tuition waivers to employees of the partnering businesses; internships that enable current students to work at the partnering businesses; faculty externships with the partnering businesses; and/or enhancement of the partnerships with additional equipment, materials or supplies. The State Regents provide a $500 match to the waivers.

"Our colleges and universities continue to collaborate successfully with public, private and nonprofit partners to strengthen economic and workforce development across our state," said Chancellor Allison D. Garrett. "The State Regents and I are proud to celebrate the positive impact of these partnerships as we all work together to build the skilled workforce required to make Oklahoma competitive on a global stage."
Eastern and the Caring Hands Healthcare Centers have partnered to help mitigate the spread of COVID-19 on the college's Wilburton and McAlester campuses by providing rapid and PCR COVID-19 testing for students, faculty and staff through scheduling coordination with the Office of Student Services. Group testing services were also provided to athletic and agricultural teams who needed a negative test to participate in sports/activities. This partnership enabled EOSC's COVID-19 response coordinators to schedule and manage all testing for students, faculty and staff through one office and one testing location. They provided an efficient and effective process to manage the college's COVID-19 response, track cases for needed contact tracing and successfully navigate the challenges of a pandemic to provide a safe environment for EOSC.