Eastern honors Veterans and dedicates Larry Stone Memorial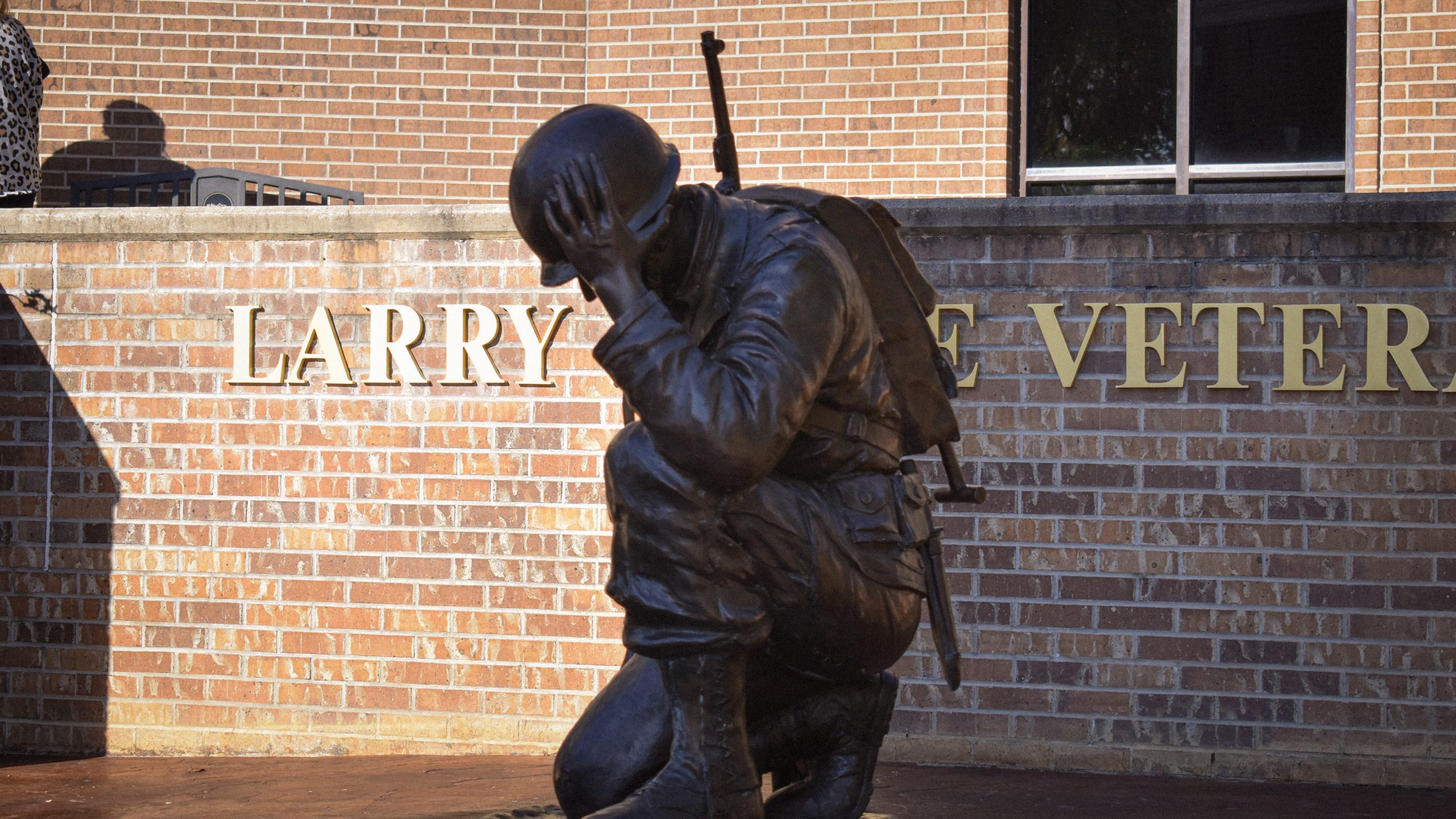 From staff reports
WILBURTON – Eastern welcomed back its veterans today (Nov. 11) when it hosted its annual Veterans Day event. This year's event included a special dedication of the Larry Stone Veterans Memorial.
This year's speaker was Chief Navy Diver Jeremiah Lively. Lively's message was one of gratitude. "Today, I'd like to speak to you as simply a grateful American and I'd like to speak for the Americans that can't speak to their heroes on Veteran's Day." Lively spoke of the power and emotion in the words thank you. "..I do know the feeling of complete hopelessness. However, I know the feeling of the salvation when a soldier says 'I'm standing here between you and your fate and I've got you, brother.'"
Members of the late Larry Stone's family and a few of his former classmates were also on hand as Eastern officially dedicated the Larry Stone Veterans Memorial that was installed on campus in 2020.
Eastern's Music Director Brian Harris and music major Elton Baird, along with community members Wayne Vogt and Cheryl Wood Myers, provided music during the ceremony.
The late Larry Stone of Jay was a two-sport athlete and Marine lieutenant who died in combat while on patrol in Vietnam. Stone played football and baseball at Eastern in the early 1960s and was known for his unselfish attitude and commitment to his team. A group of former college teammates and classmates honor his legacy each year by presenting the annual Larry Stone Award to a male and female student athlete who exemplify the same characteristics. A memorial scholarship is also awarded to a student-athlete who will return to Eastern for his or her sophomore year.
A native of Denver, Colorado, Lively enlisted in the Navy in 1996 and served as a Gunner's Mate. He was selected for the Navy Diver Program and graduated from Second Class Diver training in 2001.
After attending the US Navy Marine Mammal Systems Operator and Maintenance course, Lively served at the Explosive Ordnance Disposal Mobile Unit Three as a marine mammal (bottlenose dolphin) trainer and handler. Later he attended static line jump school and made two deployments in support of Operation Enduring Freedom.
During his military career, Lively made several deployments including three tours in support of Operation Enduring Freedom and Operation Freedom Eagle. He also served in areas of support to the southern Philippines, Baghdad and Iraq. His personal awards include the Meritorious Service Medal, Navy and Marine Corps Commendation Medal, Armed Forces Expeditionary Medal, Navy and Marine Corps Achievement Medal, Combat Action ribbon and various other personal, unit and campaign awards.