Eastern Dedicates New Facility to Former Coach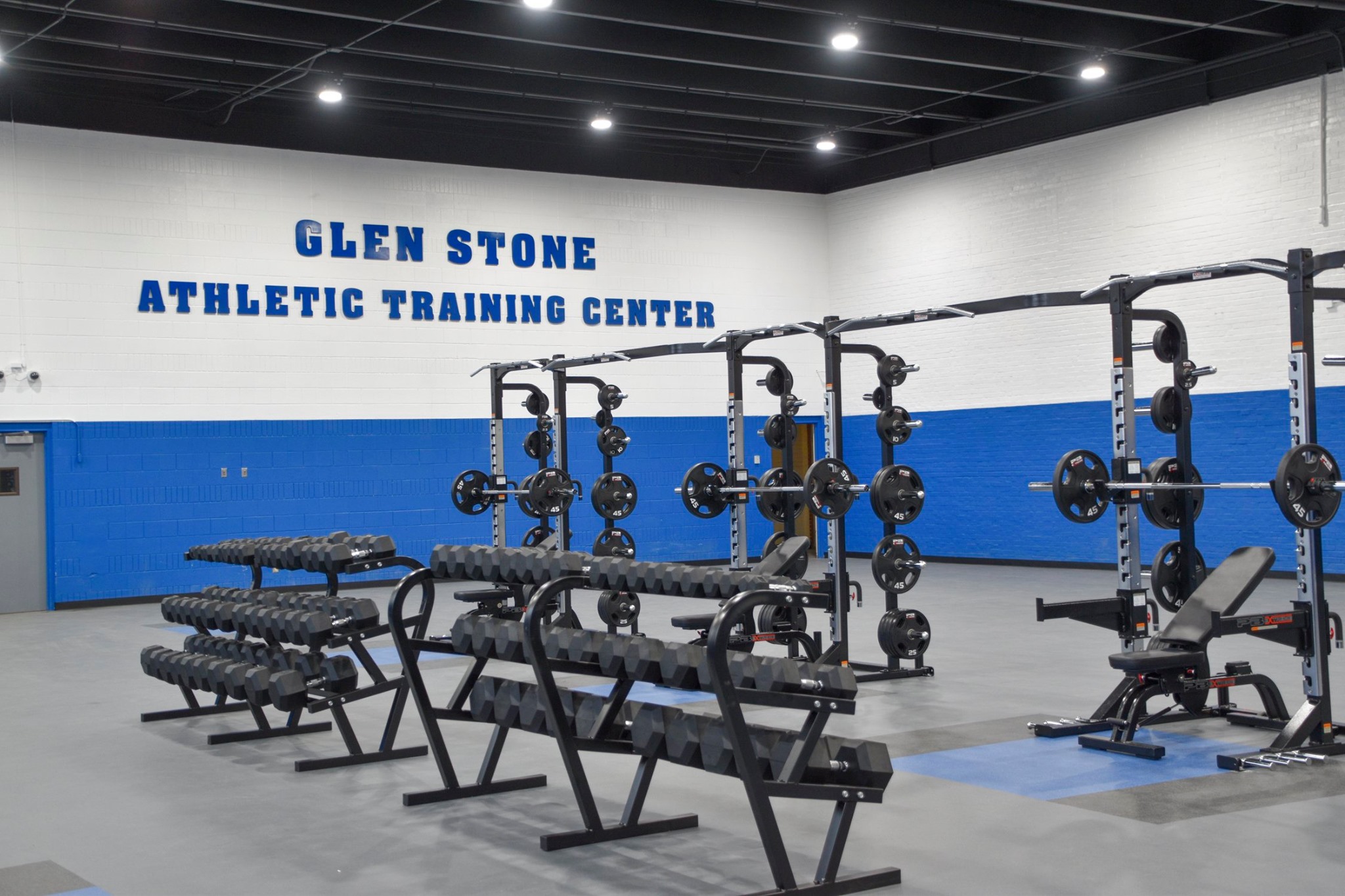 REMUS MARTIN, Editor
On Jan. 24, Eastern Oklahoma State College held a ceremony to dedicate the new training facility to former track and field coach Glen Stone. The coach was a local and national legend from winning 10 junior college national champions, being named the NJCAA Coach of the Year six times and coaching 192 All-Americans during the 20 years he coached at Eastern.
The 4,800-square foot training facility, located in the west end of the C.C. Dunlap Field House, went under renovation this previous fall. The facility now has new HVAC units, flooring, windows, LED lighting, paint and new training equipment.
"Since about 2011 to now, I had personally hoped we could renovate this space before I left Eastern, which is June 30. I'm proud to say in my last semester here that we're finally going to make that happen," Dr. Stephen E. Smith, President of Eastern Oklahoma State College, said.
The funds to renovate the facility came from donors. Donations ranged from $5 to $500 and to windows and the new weight equipment. This renovation has made a safer place for athletes to have practice and work out at.
"As student athletes, it's important to remember those who came before us. It is because of their endurance and dedication to Eastern athletics that we are now able reap these rewards," Alton Jones Junior, freshman baseball player, said.
To the athletes, the athletic training center is more than just a building. It is a symbol of those who were before them and those who believe in them by donating. The facility is very important within athletic training and recruiting, because having a high-quality place to train means more amazing athletes can join Eastern athletics and current athletes can excel even more than they currently do.
"This room used to be where you'd kind of come in and show that we had a weight room, and then you'd quickly move back out into the gym and continue the recruiting process," Matt Parker, Athletic Director and Baseball Coach, said.
Before the renovation, there wasn't much to show of the weight room. It was torn up and in desperate need of new equipment. Now it is a room where coaches can stop and showcase what Eastern athletics have to offer when recruiting new athletes. It is also a way to showcase the legacy Stone left on Eastern.
"To our athletes that are here, obviously we've got work to do to continue that legacy," Parker said.
McAlester's Suzanne Carney spoke at the ceremony. She was a former student of Stone when she went to Eastern before she was an assistant coach with him when he came back to coach at McAlester Public Schools. Carney expressed the amount of love Stone had for those around him and the amount of passion and dedication he had for coaching.
"Every athlete yearned to look up in the stands or on the side of track after their event and get that ever so famous arm pump. So, this dedication of this facility today certainly qualifies. So, to all the donors, all the people who made this happen, athletes, and family, this [arm pump] is from Coach Stone," Carney said.