Coronarvirus (COVID-19) Updates & Information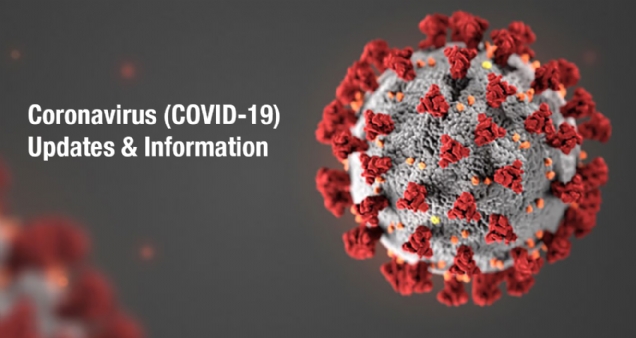 EOSC NEWS RELEASE
Coronavirus (COVID-19) Information Page
In an abundance of caution and following recent guidance by the Centers for Disease Control, Eastern Oklahoma State College will take the following steps to limit the spread of the Coronavirus (COVID-19).
Eastern will be closed as scheduled March 16-20, 2020 for Spring Break.
Spring Break will be extended by one week (March 23-27, 2020) for students, faculty and staff. No classes will be in session this week, the campus will be closed, and students, faculty and staff will not be required to report to campus or to online classes. Assignment deadlines during this week will be moved by instructors to a time after classes resume. Faculty should use this week to prepare for online-only instruction in all classes.
For areas of essential operations such as the Business Office, Human Resources and others, supervisors will communicate with their staff to ensure needed operations and functions will continue and those individuals will be on campus as needed.
All courses will move to electronic delivery methods via Blackboard March 30 – April 10, 2020. Classes are expected to resume a normal operating schedule on April 13, 2020. However, Eastern administrators will continue to monitor the situation and follow local, state and federal recommendations.
All healthy employees will report to campus March 30, 2020.
Students may return to campus on March 30, 2020 if they wish, however they are not required to return. Only healthy students who are not experiencing any symptoms should return to campus housing.
We realize there will be many questions regarding these actions, and students may need assistance with online coursework. We ask for your patience and cooperation as we work through various issues that might arise. Please remember that our top priority is the safety and health of our students, faculty and staff.
Course Materials
The Campus Bookstore has partnered with our digital course materials platform, VitalSource, and leading publishers to launch VitalSource Helps, a program offering free access to ebooks for students who may have lost access to course materials with the rapid move to distance learning. If you previously accessed textbooks via the library, shared a book with a classmate, or left your books on campus, visit bookshelf.vitalsource.com to access free ebooks through May 25. VitalSource Helps provides access to tens of thousands of ebooks, but some content may not be available.

To access free materials, you must use your eosc.edu email address to log in or create an account. Before you get started, we encourage you to review this student FAQ.
Athletics, Events & Activities
All college-sponsored events and activities are suspended until further notice. This includes Eastern's Sapphire Ball. Please visit the Sapphire Ball website to learn more.
All events hosted by outside organizations on Eastern's campus are also suspended until further notice.
The Study Abroad program between Eastern and College 360 in Silkeborg, Denmark has been canceled this year. The Danish students will not be visiting Eastern and our students and faculty will not travel to Denmark.
'The NJCAA has suspended all spring sports competition, including baseball and softball games, for the remainder of the academic year.
Protect Yourself
The most important precaution all of us can take is being mindful of our personal health by practicing good hygiene, such as washing hands frequently. We continue to follow guidance from the CDC and state and local health authorities and encourage everyone to take reasonable, common-sense measures to keep yourself healthy.
The Oklahoma State Department of Health has established a COVID-19 hotline, 877-215-8336, which has additional guidance information.
We recommend that everyone follow these everyday preventive practices while traveling or at home:

Avoid close contact with people who are sick.
Avoid touching your eyes, nose and mouth with unwashed hands.
Wash your hands often with soap and water for at least 20 seconds, especially after going to the bathroom, before eating, and after blowing your nose, coughing or sneezing.
If soap and water are not readily available, use an alcohol-based hand sanitizer with at least 60% alcohol.
Always wash hands with soap and water if hands are visibly dirty.
Cover your cough or sneeze with a tissue, then immediately throw the tissue in the trash.
Clean and disinfect frequently-touched objects and surfaces using a regular household cleaning product.
Practice social distancing by avoiding large crowds and non-essential travel including plane trips and cruise ships.
What to do if you experience COVID-19 symptoms
If you are experiencing flu-like symptoms such as fever, cough and difficulty breathing, call your medical care provider or the Oklahoma State Department of Health's COVID-19 hotline at 877-215-8336 for further instruction. Please avoid contact with others, do not come to campus and do not travel unnecessarily. Students should notify the Office of Student Services (918-465-1818) and employees should notify the Office of Human Resources (918-465-1777) if experiencing flu-like symptoms.
Communication
Your well-being and safety are very important. Eastern administrators will continue to monitor and plan for any new developments and will remain committed to providing you with up-to-date information as it comes available. Students and employees should check this website and their email regularly for any updates or changes.

Additional Resources