Student Support Services Helps Students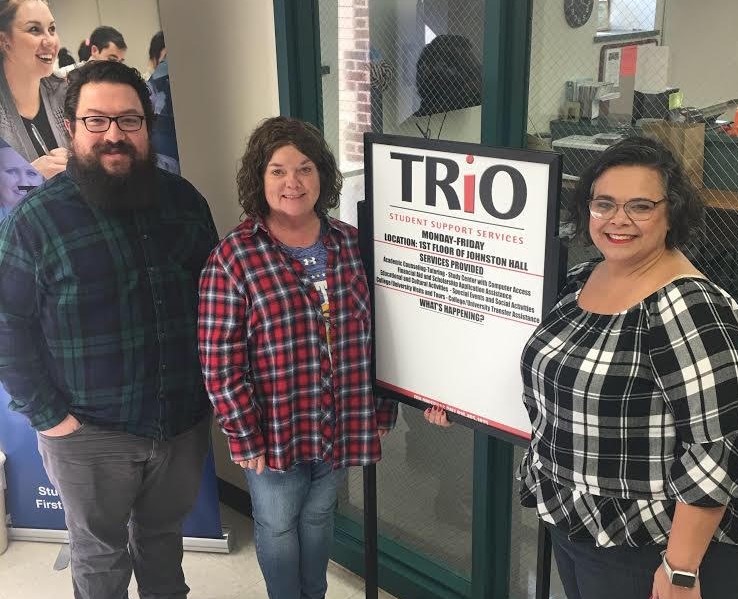 MORGAN ARLEDGE, Staff Writer
Eastern Oklahoma State College's Student Support Services is also known as the Trio Program. The program is located on the McAlester and Wilburton campuses and offers many services for students who qualify.
"Trio has three requirements that can help a student get in the program. The first one is if the students receive any amount of financial aid in the form of a PELL grant from the federal government," Cynthia Valenzuela, Director of Student Support Services, said.
When people file for FASFA, there is a chance they may qualify for federal grants. A federal grant is when the government gives money to students for college and the students don't pay it back. Those who receive a PELL grant have financial need, are a U.S. citizen or eligible non-citizen, or are enrolled in an eligible degree or certificate program at your college or career school.
"The second one is if a student is a first-generation college student. Students can qualify if their parents have an associate degree, but not a bachelors," Valenzuela said.
The third requirement is if a student has a disability. A disability for them is either physical or mental. Some examples of this are students who are deaf, have testing anxiety, blind, or diagnosed disorders. Some need to be diagnosed, but the program will help out as much as they can for all students.
Trio is sponsored by a federal grant, so the college does not have to pay for it. Its grant will be ending at the end of this school year, but the staff is in the process of writing for a new grant. This program is very important to Eastern, helping many students with adjusting to college or just having a better learning experience.
Other activities the program offers are trips to see plays, helps students with college transfers and holding stress less week activities.
The organization provides tutoring, which is for everyone to use. Tutoring happens either in the Mac Lab on the McAlester campus and in the first floor of Johnston Hall. The organization is very welcoming to everyone who comes to visit them for tutoring, use of their computer labs, or in need of a place to do homework.