Books To Read During Quarantine
REMUS MARTIN, Editor
The Coronavirus (COVID-19) happened quickly, which forced us into social distancing, self-quarantine and serious quarantine. At first, you think that now you can catch up on things you have been meaning to do, but then you're done with those things. So, you start a new TV show, but then you've watched nearly everything on Netflix. Reading can sometimes take up more time than watching television, but that's only if you find a good book or series. Just get your kindle, or download the app, and you're ready to read these books for quarantine.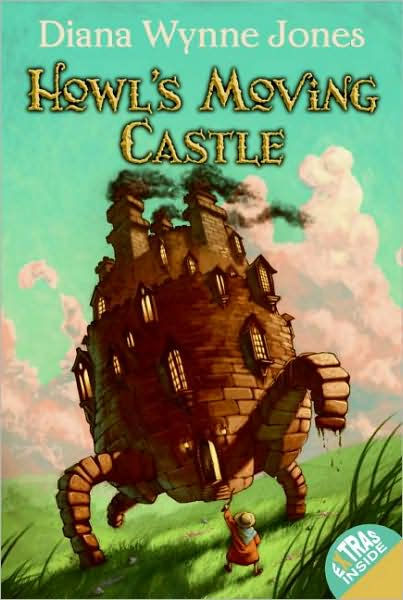 Howl's Moving Castle by Diana Wynne Jones
I read this book my junior year in high school after watching the 2004 Studio Ghibli version. The movie and book are vastly different, which normally bothers me but didn't this time. It felt right for the two to be different, but of course I had wanted there to be more similarities and for the endings to be the same. In the end though, I prefer the book because the book is always better.
Sophie has the great misfortune of being the eldest of three daughters, destined to fail miserably should she ever leave home to seek her fate. But when she unwittingly attracts the ire of the Witch of the Waste, Sophie finds herself under a horrid spell that transforms her into an old lady. Her only chance at breaking it lies in the ever-moving castle in the hills: the Wizard Howl's castle. To untangle the enchantment, Sophie must handle the heartless Howl, strike a bargain with a fire demon, and meet the Witch of the Waste head-on. Along the way, she discovers that there's far more to Howl—and herself—than first meets the eye.
To All the Boys I've Loved Before Trilogy by Jenny Han
I decided to include series in this because you can fill more time if you enjoy the first book and just need to know what happens next. I love all three of these books and just couldn't pick. I read the first book back in the eighth grade and found it pretty boring for the majority of it until suddenly it was so exciting, and I just had to finish reading. The other two are a lot more fast paced since most of the exposition is out of the way in the first book. Recently Netflix has made movie adaptations for books one and two, but not the third yet.
Lara Jean has never openly admitted her crushes, but instead wrote each boy a letter about how she felt, sealed it, and hid it in a box under her bed. But one day Lara Jean discovers that somehow her secret box of letters has been mailed, causing all her crushes from her past to confront her about the letters: her first kiss, the boy from summer camp, even her sister's ex-boyfriend, Josh. As she learns to deal with her past loves face to face, Lara Jean discovers that something good may come out of these letters after all.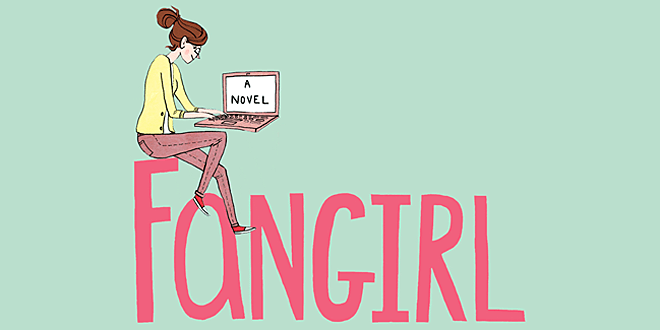 Fangirl by Rainbow Rowell
I had wanted to read this book for a long time before I actually read it. Everyone had said great things about it, and I wanted to know if their opinions were true because I wasn't sure if I should believe them. I was expecting a light-hearted book that would make me laugh but received one with a rollercoaster of emotions. Every character was so well developed to where you felt like you just knew them and felt their emotions with them. It's probably one of my absolute favorites.
Cath is a Simon Snow fan, something that she considers part of her life. Her sister Wren and she have been writing fanfiction for it for years until college comes around and Wren claims she is no longer interested in being a fan of it anymore and doesn't want to be roommates with Cath, which throws her for a loop. Cath is completely outside her comfort zone, but she has a surly roommate with an extremely charming and always-around boyfriend, a fanfiction hating professor, a handsome boy in her class that never wants to get to know each other, and a dad back home that she worries for constantly. She's tired of all the change and just wants to know if she can even do this whole college thing after all.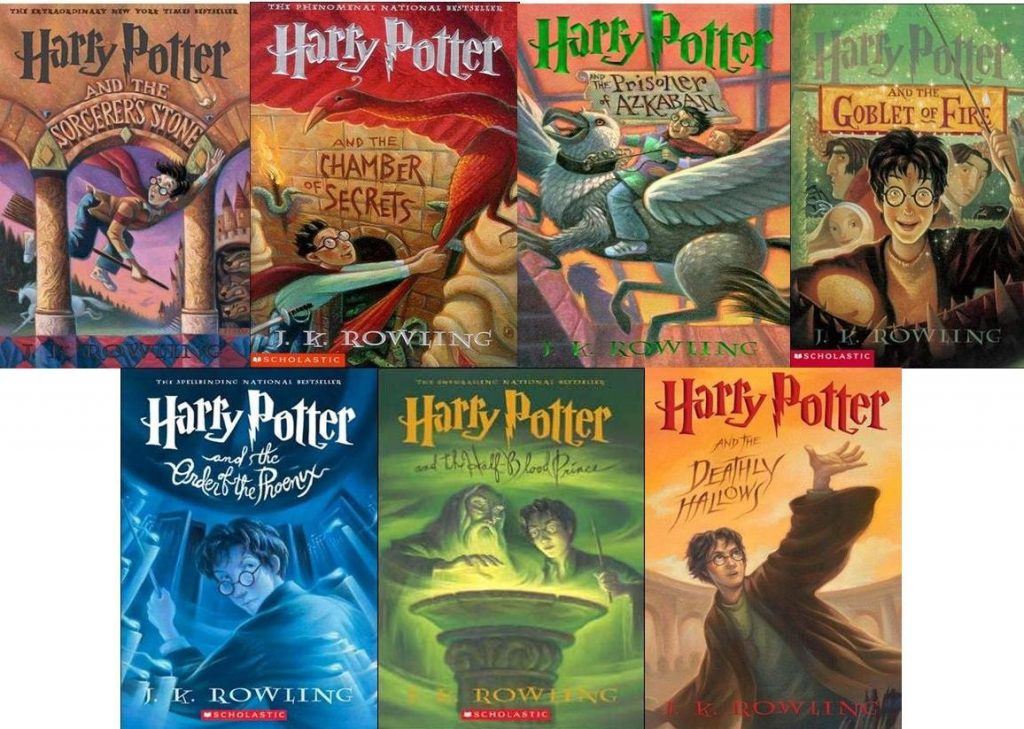 The Harry Potter Series
This is typically always on every favorite book list and it makes sense. Harry Potter is one of those series that most read growing up or just experienced through the movies and then the books. I love this series so much because I grew up with it. I remember where I read each book, how it made me feel and where I cried my eyes out when a character would die. It's a series that helped me grow as a person. Also, I know almost everyone has read the series, but I put this on here just incase someone hasn't.
Harry Potter is a boy who thought there was nothing special about him, but when he discovers he's actually a wizard; his world completely flips. He learns about his magic, his parents who died when he was a baby and his enemy Voldemort who wants to kill him when Harry doesn't know why. Along the way he befriends Hermione and Ron, who are in his house at Hogwarts. The seven-book series goes through him from his first through seventh years at the magic school and the struggles he faces throughout his time at Hogwarts.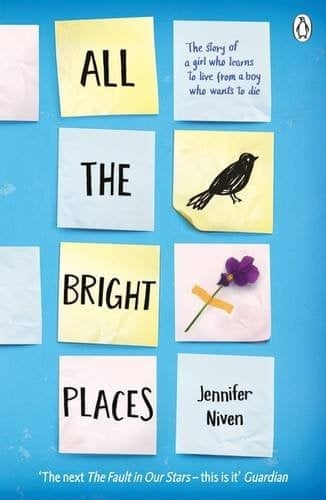 All the Bright Places by Jennifer Niven
I am incredibly guilty of being the person who reads book that will make them cry. Sometimes you need that emotion to let out the ones you've been holding back. Books that make me cry must make me laugh, because it's not sad if the character's world is always sad and never gets happy. You need something to compare it to and this book does that. It gives you the good times that make you feel so good, and that makes the bad times worse than they typically can be.
Warning: This book has highly sensitive topics relating to death and mental illness.
When Finch and Violet meet on the ledge of the bell tower at school, it's unclear who saves whom. And when they pair up on a project to discover the "natural wonders" of their state, both Finch and Violet make more important discoveries: It's only with Violet that Finch can be himself—a weird, funny, live-out-loud guy who's not such a freak after all. And it's only with Finch that Violet can forget to count away the days and start living them. But as Violet's world grows, Finch's begins to shrink.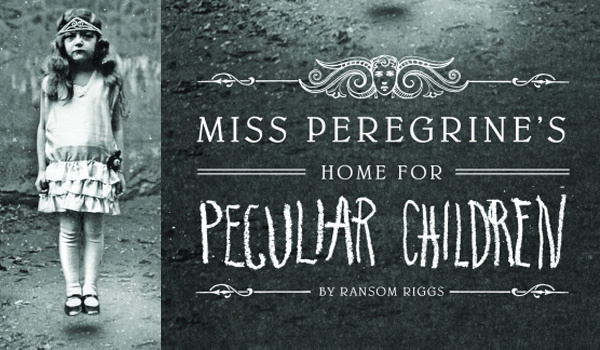 Miss Peregrine's Home for Peculiar Children by Ransom Riggs
Although this is a series, I liked the first book the most. I tend to think the first book is always the best, because it is the book that brought you into the world the characters live in. This is a book that I remember reading very vividly. I love Jacob so much, he's one of my favorite characters and really grows throughout the series (as well as in this book).
As our story opens, a horrific family tragedy sets sixteen-year-old Jacob journeying to a remote island off the coast of Wales, where he discovers the crumbling ruins of Miss Peregrine's Home for Peculiar Children. As Jacob explores its abandoned bedrooms and hallways, it becomes clear that the children were more than just peculiar. They may have been dangerous. They may have been quarantined on a deserted island for good reason. And somehow-impossible though it seems-they may still be alive.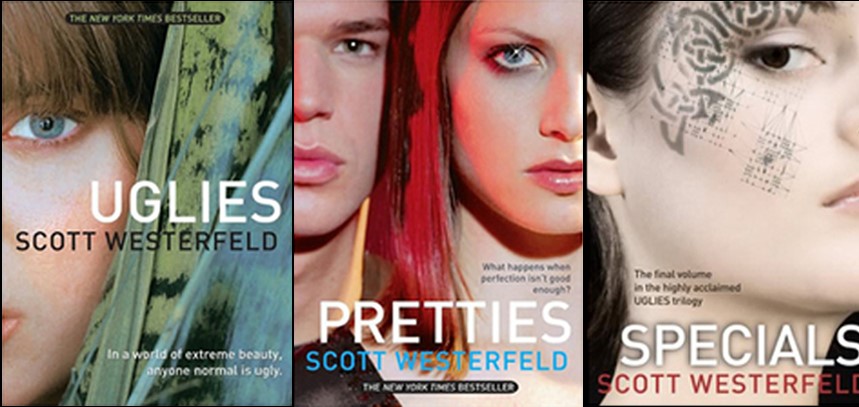 The Ugly Series by Scott Westerfeld
I am not a fan of futuristic or dystopian styled books, but this series is one of my few exceptions. It shows you what it really means to see yourself and not to critic it to the point you do. Beauty isn't only external; it is internal too, which means more. Out of all the books on this list this one truly deserves a movie or television adaptation. It has so much potential to be such a great movie or TV show, and hopefully it will be someday.
Tally is about to turn sixteen, and she can't wait. In just a few weeks she'll have the operation that will turn her from a repellent ugly into a stunning pretty. And as a pretty, she'll be catapulted into a high-tech paradise where her only job is to have fun, but Tally's new friend Shay isn't sure she wants to become a pretty. When Shay runs away, Tally learns about a whole new side of the pretty world– and it isn't very pretty. The authorities offer Tally a choice: find her friend and turn her in, or never turn pretty at all. Tally's choice will change her world forever.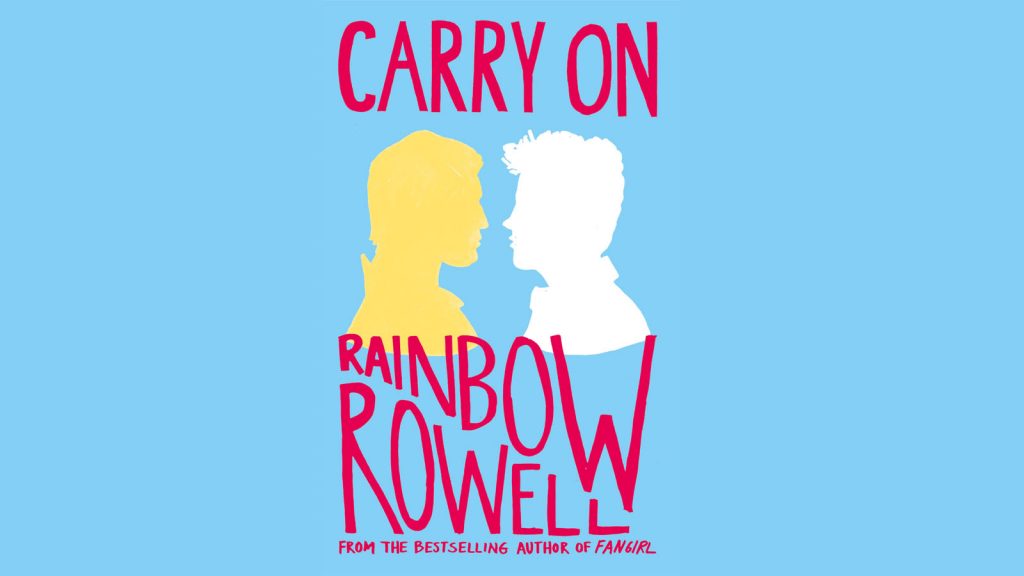 Carry On by Rainbow Rowell
I love Rowell's writing so much to the point where I read first person, which is something I never do. This book stems from her other book "Fangirl," and this is the fanfiction that Cath wrote with her sister and eventually finished by herself. I had never seen anything like this before where an author changed their style to be like a character and then publish a book of it. It's obviously named after the fanfiction, and there is a second one called "Wayward Son". "Carry On" had plot twists you don't expect and characters you love to death, but also characters you absolutely hate. The fanfiction is based off the book and movie universe of Simon Snow, which can be related to Harry Potter in a lot of aspects.
Simon Snow is the worst Chosen One who's ever been chosen. That's what his roommate, Baz, says. And Baz might be evil and a vampire and a complete git, but he's probably right. Half the time, Simon can't even make his wand work, and the other half, he starts something on fire. His mentor's avoiding him, his girlfriend broke up with him, and there's a magic-eating monster running around, wearing Simon's face. Baz would be having a field day with all this, if he were here — it's their last year at the Watford School of Magicks, and Simon's infuriating nemesis didn't even bother to show up.
Hunger Games Series by Suzanne Collins
Almost everyone knows about "The Hunger Games" books or movies, but in my opinion that's a good thing. Recently I decided to reread the series again and forgot how much I loved it. This is another one of those stories that I'm fine with it being a dystopian novel. I wasn't the biggest fan of Katniss when I was younger, but reading it seven years later let me see that she's not a boring character like I thought, but one who just has so much room to grow from not understanding what she wants or not understanding who she is to someone who certain and assertive. If you haven't read this series, then I really recommend it.
Could you survive on your own, in the wild, with everyone out to make sure you don't live to see the morning? In the ruins of a place once known as North America lies the nation of Panem, a shining Capitol surrounded by twelve outlying districts. The Capitol is harsh and cruel and keeps the districts in line by forcing them all to send one boy and one girl between the ages of twelve and eighteen to participate in the annual Hunger Games, a fight to the death on live TV. Sixteen-year-old Katniss Everdeen, who lives alone with her mother and younger sister, regards it as a death sentence when she is forced to represent her district in the Games. But Katniss has been close to dead before – and survival, for her, is second nature. Without really meaning to, she becomes a contender. But if she is to win, she will have to start making choices that weigh survival against humanity and life against love.